Pinked Fun Place Ribbon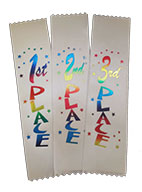 Bulk Award Ribbons for Sports, Academics and More
Recognition for our achievements is very important for everyone. Who doesn't like being told that their contribution was important, or that their hard work has not gone unnoticed? Our stock award ribbons are an inexpensive way to reward achievement or encourage participation. Available in a variety of ribbon colors, with pinked edges and in carded or non-carded styles, these award ribbons are just what you need to recognize a job well done.
The Benefits of Recognition
You'd be surprised at how far a little positive attention can go! The possibility of winning an award can help people surpass their limits and overcome obstacles that may seem daunting. It can provide or increase the motivation a student needs to work harder on their entry in the science fair, for a runner to do their best at a track meet, or for a team member to dominate an upcoming game.
Good grades, scholarship offers, adulation -- these are all forms of encouragement that let us know that our efforts are not going unnoticed and that hard work will help us get rewarded. Whether for sports awards or recognition awards, our bulk ribbons are an inexpensive but very effective way to motivate people.
Recognition makes us feel good. Getting that blue first place ribbon at the science fair may just give that future doctor the extra motivation he needs to pursue his passions in the classroom. Shop with us today!
| Amount | Price (Ea) |
| --- | --- |
| 25 or more | $0.24 |
| 200 or more | $0.22 |
| 500 or more | $0.19 |
| 1000 or more | $0.18 |
| 2500 or more | $0.17 |
| 5000 or more | $0.16 |
AS LOW AS $0.16 EACH
Minimum purchase is 25.
Order in increments of 25.